­A lifetime project: Onecrazy95civic
December 6, 2018
Filed under Local
Hang on for a minute...we're trying to find some more stories you might like.
Érick Marcoux-Poussart, a 47-year-old Flight Engineer in the Royal Canadian Air Force, will be competing at the ISCA, 59th edition of Autorama in Cincinnati with his modified car.
On January 9th, Mr. M.-Poussart is gonna drive 16 hours to Ohio with his wife and his friend, Sébastien Demers, who is helping with the bodywork. His responsabilities are: paint, graphics, and all details relevant the appearance of the car.
He bought his car in 1995 when he was 24 years old and it is a Honda Civic Si Coupe. This project is called "Onecrazy95civic". Érick used to compete only with the audio system of his car in the IASCA circuit. He set his personal record in 1996, which was held in Greenville, South Carolina (SC). He finished 3rd in the novice class audio. This year, with the body and the audio system, his goal is to beat this achievement.
He gladly tells that his wife, Mrs. Migneault, does not help him directly, but she is his biggest support. She often says "The Civic is a never ending project and it's an expensive hobby." He is not sure about the amount of money he put on this project but he estimates that it's in the six digits.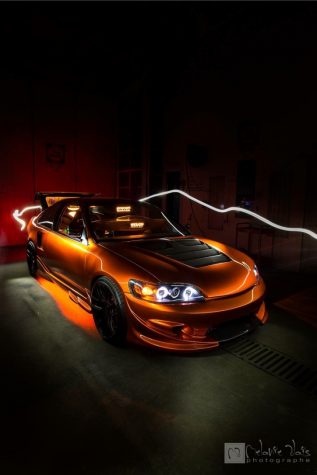 Mr. M.-Poussart can work around 2 to 3 hours a day on his car, but everytime he gets a day off, he spends the whole day improving his project. He mostly modifies his car in his garage, but sometimes, needs to drive to Montreal to get extra help on some specific details that he can't do by himself.
He used to travel to shows riding his car, but now he brings the Civic in an enclosed trailer. He says that : "There is so much money invested in the project so I don't want to take the chance of damaging the paint."
These shows have given him the opportunity to travel to many different places such as Oklahoma City, a trip he really appreciated. He is proud to announce that his next destinations after Cincinnati are Pittsburgh and Chicago.
Written by: Carolane Dagenais
Edited by: Julia Labbé, Madeline Ratté and Évelyne Tremblay