A Hopeful of the Olympics Games Soared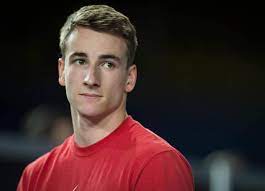 A 22-year-old gymnast was arrested a few months earlier before facing new charges in December. 
Even after the first accusations, in July 2020, Thierry Pellerin was regularly in contact with children and he was contacting them on social media. 
The young gymnast was arrested in July for computer lures and inciting sexual contacts, but in December, he was arrested for charges of voyeurism, production, and possession of child pornography.
Before his first arrest, Thierry could have been dreaming of the Olympics game, but he can now say goodbye to the games. "These accusations are extremely serious […] the club is in close contact with the Quebec and Canadian gymnastics federations, the city of Lévis and is at the disposal of the police authorities"
The president of the Club Gymnamic handed in his resignation a few days after hearing the accusations against his son. The 22-years-old man has been restricted from going to the Gymnamic until he will be found innocent.
Thierry Pellerin has been formally forbidden to communicate with the complainants and their families. He must remain in Quebec and formally refrain from attending parks or public areas where minors are found. Nor will he be able to hold a job that places him in a relationship of authority or trust with minors. The accused will not have the right to access the Internet in any way or to use a device that allows him to take photos or videos.
Thierry was worried about his career as a photographer after hearing this news, but his lawyer said they will be watching for solutions. 
The period of alleged offenses covers from September 1, 2019, to June 9, 2020, for one of the complainants and from March 20 to June 9 2020 for the other. Both complainants were 10 and 12 years old at the beginning of the charge period.
"I didn't do anything to hurt. Sorry if it hurt", said the gymnast. He also mentioned he was regretting his words and actions.
An organism named Sport'Aide has put to the disposition of athletes, parents, and coaches, a phone line, free and confidential to provide psychological support.  
Their major goal is to offer support, listening, and counseling services for young athletes and all those who witness violence against young people.