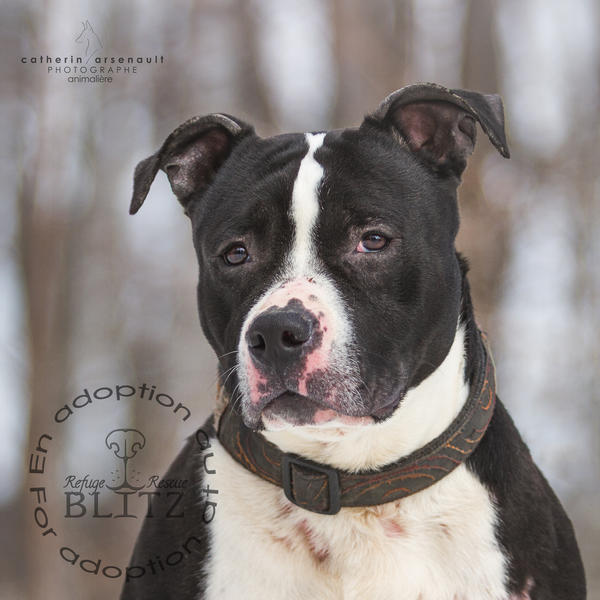 The Blitz Rescue has been founded in 2015. It all started because of Blitzen, an 8 weeks puppy, who was euthanized illegally by an organism, without a veterinarian. It was also establish because of the urgency to save dogs.
I talked with Marie-Eve Jean, president and general director of the refuge, to know more about this dog's shelter, their protegees and their volunteers. As an animal lover, she personnally owns 3 dogs, a cat (all rescued) and a horse. She also adopted an older dog 4 years ago, who unfortunately passed away 2 years later.
How many animals do they have?
Right now, 2 dogs are available for adoption, 2 are in evaluation (and a 3rd one is coming this week), and 5 others are having visits from families this week-end. This week, there are 9 dogs under their care, and last week nothing less than 18. Since February 2015, they have saved 46 dogs, and they always take new ones.
How a dog get to the refuge and what happened when he arrives?
A dog come when his owner can no longer keep him, or don't want to. They also come from high-kill shelters, or from kennel-based shelters when the dogs are too stressed out to stay there. Foster families are important for the refuge because every time they take a new dog, they need a family available since they do not really have a shelter yet. When they arrive, all dogs see a vet to be examined and receive all the necessary care: vaccination, deworming, microchip, spaying/neutering and anything else their condition requires. Some dogs also need treatments for ear or skin infections, x-rays and surgeries.
They find foster families through Facebook, with their website and at special events. To become one, the family needs to fill an application, which lets the refuge know of any restraints like other dogs, children, cats, living in apartment and others. It helps Blitz to match the dog with a foster family that fits with it. They provide the dog's family with everything they need, such as: food, cage, and accessories, and they have to keep him for at least 2 weeks, until the dog is adopted. After the 2 weeks, they need to fill an evaluation to tell if everything is fine with cats, others dogs, kids, if it barks a lot, if it'll need a fenced backyard, etc. Marie-Eve then writes a description on Facebook, on their website, and on Petfinder.
How to adopt a dog from the refuge?
If someone thinks the dog could match with them and their family, they need to fill the adoption form. After checking all of them, the members of Blitz chose the one that fits the best (if there's any). After finding one, they prepare an appointment with the foster family because it's easier for the dogs to meet new people in an environment they already know. If the meeting goes well, the adoption family can leave with the dog, after having the permission of the foster family and signing a contract with Blitz. They sometimes do visits and they take reference.
Adoption fee is always the same, no matter how much they spent on the dog. It's $350 for an adult and $375 for a puppy (9 months old or less). It is sometimes reduced for senior dogs to help them get adopted.
How much money they earn? How much they had spent on dogs and the refuge?
They collect money with the adoption fee, and by selling items at special events (bandanas, dogs cookies). They also ask for donations and they have recently done a fundraiser, where they reached half of their goal. They're a registered charity with the Canada Revenue Agency, to issue tax donation receipts and they're also a registered Not-for-Profit organization in Quebec. They collect material donations as well.
When the dogs are spayed, neutered and they don't need special vet care, the vet cost is generally 100$, but sometimes it is near to $350 and over $1000 like Silver the Sheltie, who had problems with its teeth. Last year, a dozen of dogs cost them more than $500 each. They get food donations, but they still sometimes have to buy dog food, whether because they don't have any left or because they need a special kind of food, for allergies or particular health issues (urinary infections for example). Last year, which was their first year, over $8000 was spent on the dogs, the most part being spent in vet bills. This year, the amount has already been exceeded. They reimburse the volunteers' gas when provided with a gas receipt, most of their expenses are paid by the volunteers.
Who works for Blitz?
Everyone who's working there is doing it on a volunteer's basis, and they all have a full-time jobs at the same time. The team counts 1 pro photographer, 3 people who reply to the message on Facebook, 1 for the Instagram account and website, 1 professional groomer, and other persons who sometimes help with the transportation, baking cookies or making bandanas to sell at events, etc.
How to help them?
We can help them by liking their Facebook page and sharing the profile of their proteges. They're always looking for foster families and volunteers to help them, either with the transportation or as a spokesperson at public events. They're open to initiatives (like the bandanas, which was an idea of one of their volunteers). We can also sponsor a dog every month with the amount of money that we wish. Blitz is on ResQwalk, so we can download the app for free, add them as a partner, and start it everytime we walk, run, or bike, etc. Each month, they'll receive money in accordance of the mileage we have done. Anything that can help them to raise funds or care for the dogs is welcomed.
Dogs are sometimes abandoned because they're too high energy for the family, so to promote rescued dogs like excellent prospects for canine sports, which they are, is obviously a good idea.
Links of Blitz Rescue:
Website: http://www.refugeblitz.org/
Facebook: https://www.facebook.com/refugeblitzrescue
Instagram: https://www.instagram.com/refugeblitzrescue/
Youtube: https://www.youtube.com/channel/UCt1EPeHKbxnSnPMtCpLCpmA