Serial killer left bloody message next to victim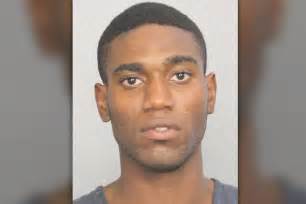 Hang on for a minute...we're trying to find some more stories you might like.
"This individual did kill three, so I guess by dictionary definition he would qualify as a serial killer"
A serial killer was arrested after killing three homeless men and injuring 2 others, during mid-October, in South Florida.
Police said Nathaniel Petgrave, the murderer, had been on a killing spree targeting homeless men in the Fort Lauderdale area.
He wrote "4 Stop Wait Time" in the blood of his fourth victim, Derick Tucker. He said to the detectives that the number "4" written in blood was because he thought Tucker was the fourth person he killed. Police also found a blood-covered handsaw and a machete next to his body.
The first victim of the serial killer was Larry Scott, age 65, killed by a gunshot at an abandoned gas station. During the same shooting, another homeless man was injured and is now hospitalized in critical condition.
The next morning, a 50-year-old man, named John Jackson, was murdered by a single gunshot to the head fired at close range, in a parking lot.
Police arrested Petgrave after an auto theft but they couldn't arrest him on murder charges.
"When we had him here for the auto theft, we had some suspicions, but you can't get probable cause for an arrest warrant based on suspicion," police Capt. Frank Sousa said.
When the murderer showed up at the police station to get some of his belongings back from his arrest for auto theft, that's when the detectives arrested him for the killings.
The crimes were from Oct. 20 to Oct. 27.
(Written by Maélie Royal and Emmanuele Bertrand; edited by Lori Michaud)
Source: CBS News