"No chrono, no rating, just for girls"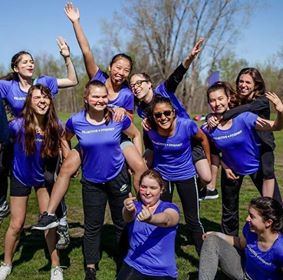 Created by Claudine Labelle, Fillactive is a program targeting girls between the ages of 12 and 17 to encourage them to do more physical activities.
Offered in approximately 250 schools in Quebec and Ontario since 2014, the idea of Fillactive consists in gathering girls and helping them achieving their personal goal at the end, either 5 km or 10 km run. "We have to unite to become stronger", says Claudine Labelle, president and founder of the program. One of the main objective of Filleactive alongside inciting girls to do sport is to form new friendships and getting challenged.
Before running, they need to get themselves prepared. They have one training per week at lunch and two practices after school. During practices, they do squats, jumping jacks, push-ups and some more exercises. They also run and walk outside, but most of the time inside in the gym of the school.
Madeline Ratté, a girl at La Camaradière school, participated last year and she loved her experience. At first, she only wanted to do it to be with her friends and to miss a school day, but this year, she will do it again to do 10 km running instead of 5 and because the activities Fillactive suggests are very interesting.
Madeline really liked the program because she could improve herself. She had only run 4 km before, but last year, she broke her personal record and ran 5 km. The organisators of the activity are also dynamic and full of energy. However, there is one thing that she liked more than anything: this is an activity for ourselves "no chrono, no rating, just for us'' said Madeline.
She recommends this activity to every girl who wish to either start to do sport or to stay in good shape. This is also an excellent way to meet new people and to keep positive memories of the secondary.
Written by: Marysa Sirois
Edited by:  Noémie Collin, Évelyne Tremblay, Madeline Ratté and Julia Labbé