Golden Globes 2016
The 2016 Golden Globes ceremony was a real success! A lot of hollywood's celebrities were here and some outfits were really amazing!
This year was the 73rd Golden Globe Awards ceremony . The show honored the best movies, series and actors of 2015  and was broadcast live on January 10, 2016, from The Beverly Hilton in Beverly Hills, California. It was organized by the Hollywood Foreign Press Association and presented by Ricky Gervais for the fourth time. Ricky is an English comedian, actor, director, producer, writer, and musician. He did a really good job again this year! He even had to apologize a week earlier for his sarcastic tone«Because I can see the future, I'd like to apologise now for the things I said at next week's Golden Globe.»
Leonardo DiCaprio won Best Performance by an Actor in a Motion Picture – Drama. With the movie The Reverant. The movie The Martian won Best Motion Picture – Musical or Comedy. Mr.Robot won Best Tv Series- Drama and Mozart and the jungle the Best Television Series – Musical or Comedy. The winner of the Best Motion Picture Made for Television was Wolf Wall.
To see all the winners and the nominees click here!
Now let's talk about some outfit people were wearing.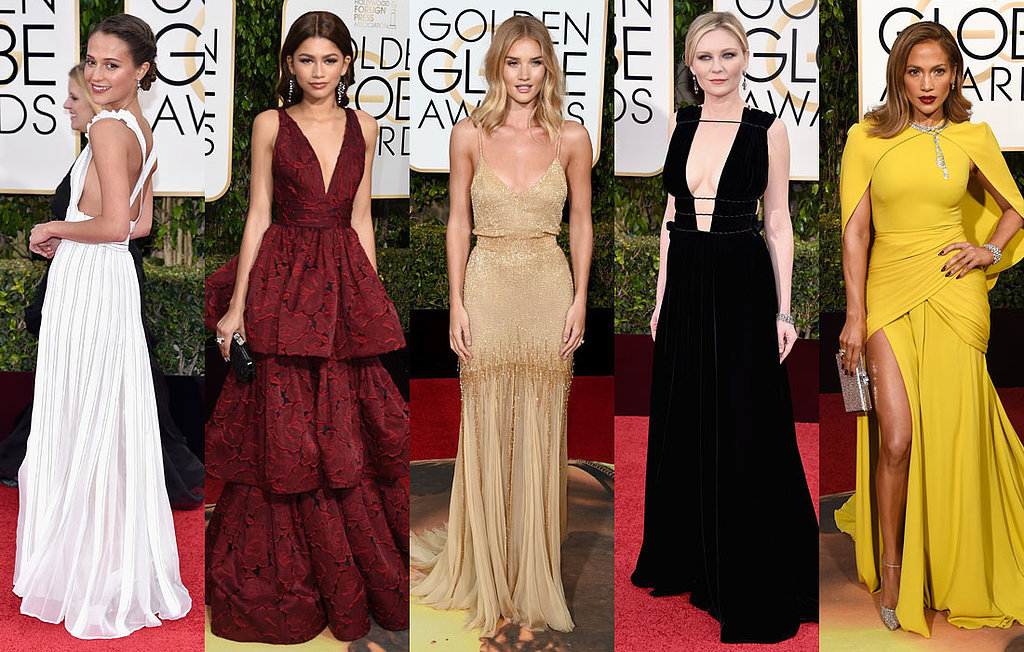 Alicia Vikander              Zendaya       Rosie Huntington-Whiteley    Kirsten Dunst          Jennifer Lopez
Alicia Vikander was wearing a Louis Vuitton dress that she paired with dangling diamond earrings. Zendaya wore a Marchesa dress, and Rosie Huntington-Whiteley's dress was from Saint Laurent. Kirsten Dunst was wearing a Valentino's dress and J-Lo in a marigold caped Giambattista Valli Haute Couture gown with a ruched waist and high-slit with 200 carats of Harry Winston diamonds and sparkly silver Jimmy Choo heels.