A shiny cup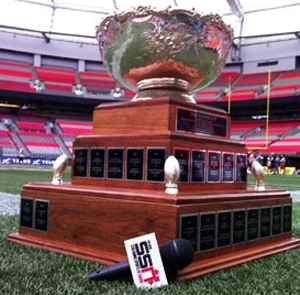 As you may know, the Vanier Cup is a cherrished award for all college football players and fans.
Gouvernor General George Vanier created this Canadian Interuniversity football prize in 1965. The trophy was declared the national football championship of the Canadian Interuniversity Athletics Union in 1967. The cup is granted to the winner of the final game.
The number one winning team is no other than the greatly feared Laval's university team The Rouge et Or with 8 cups. Their first one being in November 27 1999 against the Huskies in front of 12 595 fans with Stéphane Lefebvre leading the way at the beginning, the squad won 14-10. Also, the team with the most match played is the Western Ontario Mustangs with a total of 12 appearances.
This year the cup will be disputed between Laval's team The Rouge et Or and the Calgary Dinos this November 26th at Tim Hortons stadium in Hamilton, Ontario. We bet it will be a good match.
George P. Vanier  in 1918