The Mourréal case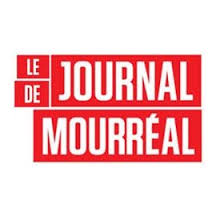 Making parodic content is risky, some people may like it other may not. July 17 2016 the journal de Montréal showed an example of the second option by prosecuting their satiric ego: Le journal de Mourréal.
This summer, Media QMI filed a complain to Janick Murray-Hall, the co-founder of Journal de Mourréal, accusing the newspaper of violating the protected brand "Le journal de Montréal". The later is claiming that they are using their notoriety to get known and for the risk of confusion between the two media because of their look-alike names.
«The layout of the Journal de Mourréal's website and its headings (news, politics, health, sexuality, culture, sports, etc.) are elements borrowed from the Journal de Montréal, and considerably increase the risk of confusion» told the firm.
It is important to know that the comedic paper has already been mistaken for an official one on numerous occasions.
An article (http://www.journaldemourreal.com/les-mysterieux-restes-dune-baleine-retrouves-dans-un-champ-en-beauce/) talking about a whale found in a field in Beauce was misled into a true piece of actuality. Many news channel taught the story was real and sent teams to investigate and of course found nothing of the kind, which angered many.
Montréal's daily asked the shut down of the website and all the profits made since the creation of the paper, regrettably the managers were not able able to pay the juridical fine and ended their creation.
But a few days later Mike Ward and "Monoc'" Serge announced that they will give money from their beneficial shows to help the cause of the composers.
September 5 2016 the accusations from the Media QMI were rejected by The Arbitration and Mediation Center of the World Intellectual Property Organization saying that only two of the three complaints were right. M.Landry could not decide if the use of Journal the Montréal similar name for bad intentions charge was legitimate.
"Given the complexity of this case and the difficulty of deciding whether the parody is present and noting that the Applicant [Le Journal de Montréal] has been seized by the Quebec Superior Court on this point and that both parties are resident in Quebec, the Administrative Commission decided not to prononce themselves " Wrote Landry.
Finally, the case was abandonned and still today «Mourréal's paper» is operational and publishes some really bizarre article such has one talking about a giant statue of our Prime Minister Trudeau constructed in Ottawa. Another where a lady would have been waiting since 1961 in the hospital for treatments. Or that Carey Price daughter (of one month old at the time) who would already be playing Hockey in a team just to name a few.
Quotes and facts taken from Radio Canada.ca
Edited by Philippe Champoux