Les Éperviers: Léa Villemure-Bénard
This girl has been the coach of the basketball benjamine feminine of Les Éperviers and the captain of the juvenile feminine for tree years. She is a real sportive, she does snowboarding and many other sports.
Léa Villemure-Bénard is a 16-year-old basketball player in the juvenile feminine team of Les Éperviers. She has been in the team since secondary 3 but, in secondary 2 she was already practicing with them. She is also in english concentration.
Basketball has always been her favorite sport because you can always get better and improve. She also enjoys the fact that you are surrounded by people with the same passion as you.
But for Léa, the bad side of basketball is the fact that everybody is different, so no one's reaction is the same and bad attitudes can have an impact on the team.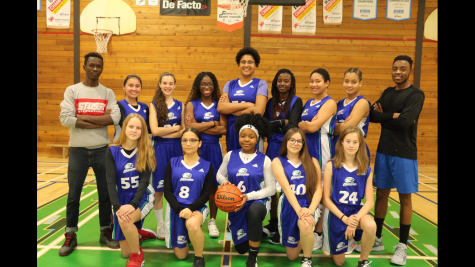 She considers herself better than a " debutant basketball player ". She would not say that she is perfect because she has things to work on again.
To be a better basketball player she always pushes herself. To her, everyone is good in their own way and is important in the team.
She aims CEGEP basketball team, but she is not interested in things like WNBA. But it surely is not her last year of playing basketball.
The basketball player that inspired her the most is Stephen Curry because he is, like her, a point guard and he has all his shots . A little advice she has for girls that wanna play basketball or already play basketball but don't think that they are good, is just to continue and if you think that you are useless in your team, you're not. In the game you're only five and if one person isn't confident, it will make a big difference.
Written by: Aïssa Alice Diallo                                               
Edited by: Alice Gagnon, Valeria Claro