A New-York holiday activity not to miss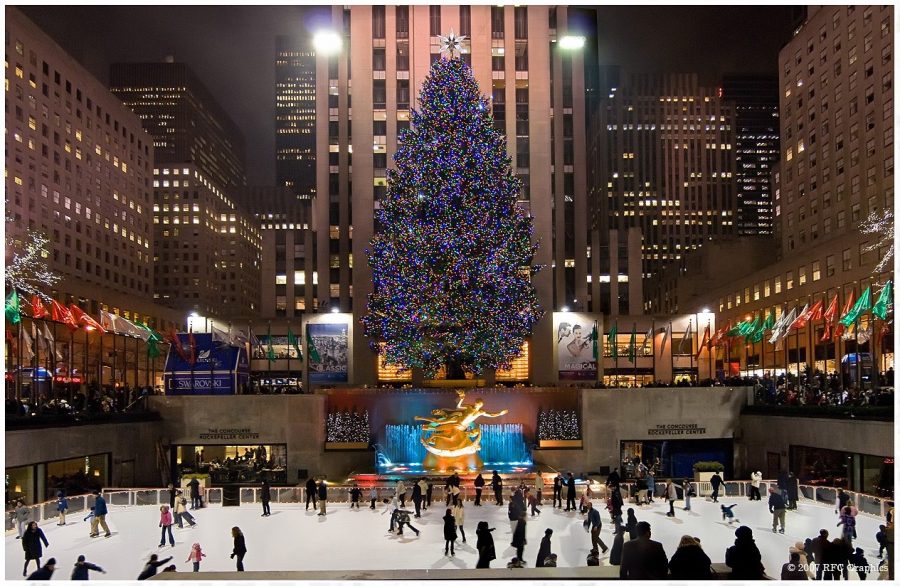 Carolane Dagenais
March 19, 2019
On November 28th, at the Rockefeller Center, in midtown Manhattan, was held the lighting ceremony to honor the traditional tree. 
The tree is normally between 69 to 100 feet high and this year, it's a Norway spruce that measures 72 feet. The record of the tallest tree has been set in 1999 by the discovery of a 100 feet Norway Spruce in Killingworth, Connecticut. The first tree put up in front of the Rockefeller center was only 50 feet tall. Every year, about 125 million people from all across the world visit this site.
The Christmas tree is nicely decorated with 50 000 multi-colored led lights. During World War II and after 9/11 attacks, the tree was enlightened using red, white and blue patriotic colors. In 1942, in order to accommodate the war effort, the design was modified from one big tree to three smaller ones.
On top of the tree shines a 900-pounds Swarovski Star. Daniel Libeskind, the man who created the new design of the star, is an architect and a designer. The process of this big project took him two years to finish, including the creation and the construction. Libeskind said: "The new Swarovski Star for the Rockefeller Center Christmas tree is inspired by the beauty of starlight. The star is a symbol that represents our greatest ambitions for hope, unity and peace."
Michele Hallahan, a tourist who visited the attraction on December 15th 2018, expressed her experience: "It was absolutely beautiful. The star at the top alone was breathtaking. It was crowded at the bottom by the skating rink but there are plenty of places to take beautiful pictures." On January 7th 2019, the tree will be taken down and made into lumber that will be used to build homes for Habitat for Humanity.
Below the tree, there is a skating rink that opened on Monday, October 8th 2018. This skating activity, opened from eight in the morning to midnight, costs 33,50$ CDN (25$ US) and during the holidays, the price gets even higher. The first ice rink opened in 1936 and to celebrate this opening, a skating competition was held and two trees were raised.
Written by: Carolane Dagenais
Edited by: Madeline Ratté and Julia Labbé