Strasbourg Shooting: 3 Dead, 12 Injured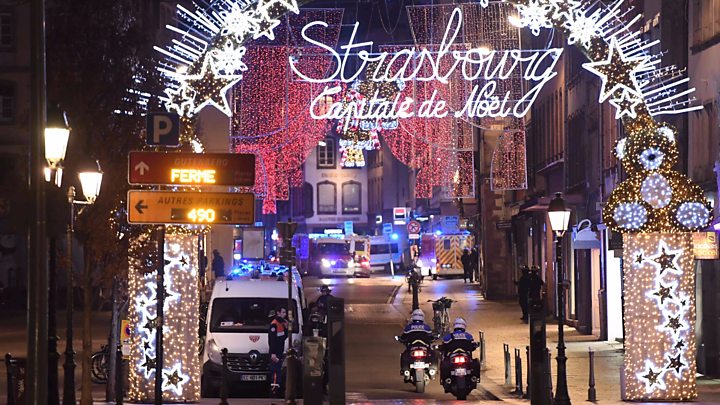 Madeline Ratté
March 19, 2019
On December 11th, a gunman killed three people and injured 13 others during a mass shooting in a Christmas market located in Strasbourg, France.  
The attack started at 8:00 pm, local time, with two distinct gunshots that killed the first victim. "The man collapsed, and the guy opened fire again at someone else who fell to the ground too," said an eyewitness of the tragedy. That second casualty was a visitor of the market.
Before killing the third victim, an Italian journalist, the murderer shouted "Allahu Akbar", which means "God is great" in Arabic. Then, the gunman ran away, leaving behind him a terrible crime scene.
The assailant was identified as Cherif Chekatt, an Islamist extremist with an extensive criminal background. The 29-year-old man had 27 convictions mostly for acts of rubbery and violence. He had been incarcerated for theft charges in Germany, in 2016 and 2017.
The French police started a massive manhunt that lasted two days. During their search, the officers exchanged fire twice with Chekatt. He was shot in the arm, but he took a taxi and managed to escape.
On Thursday, December 13th, the cops went to the neighbourhood where Cherif Chekatt had last been seen. They spotted someone that matched the suspect's description. The authorities called out the man, who turned around and opened fire. The policemen returned fire and killed Chekatt.
"It's relief for the people of Strasbourg to know that the attacker has been killed," said Roland Ries, Strasbourg Mayor. Even though the killer had been neutralized, France raised its security to the highest level. After the attack, 1,800 additional soldiers were deployed across the country to secure crowded events.
Hours before the shooting, French gendarmes sought to arrest Chekatt because he was related to an attempted murder. He was not at home, but his parents and his two brothers were there. All four of them were arrested and placed in custody.
Strasbourg's usually busy streets were empty after the assault. There was a heavy police and military presence where the accident occured. People were in a state of shock and avoided getting out of their house.
The atmosphere was very tensed around the Christmas market. Only a few braves lit candles and brought flowers to an improvised memorial on the site of the attack. The market, closed since the shooting, reopened on Friday, December 14th.
Written by: Madeline Ratté
Edited by: Évelyne Tremblay, Jessica Turmel, Alice Gagnon & Julia Labbé