Fun, Laughs and Three Gold Medals
The stage band group won three gold medals during the weekend of March 23rd.
Last weekend, the Festi Jazz Pop was held in Roger-Comtois high school. This competition's main goal is to promote music of all types. Many students, teachers and parents were present.
At the competition, our school was represented in three divisions: senior stage band, the big ensemble, and chamber music. We also participated in the rainbow combo in the combo category.
During the evening, one of the retired teachers of our school, Jean Picard, received an award and was honoured during the evening for his involvement. He has always been seen as a musical pioneer in the school district.
This night was the result of two months of intensive work from teachers and students. To prepare, they practiced jazz, blues,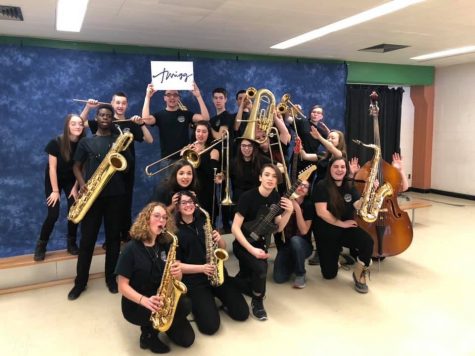 hard rock and other popular styles. They did many wonderful pieces like The Balade Samantha, a piece with a difficult solo, interpreted by the senior stage band. The rainbow combo musicians presented greatly Santa Sand Ma. With these pieces, the three groups got an impressive 91% from the judges.
Ludovic Tourigny and Ivenska Holdbrook both received medals for getting in the top 6 of the best musicians of the competition.
Ophélie Girard, one of the participants, really liked her experience. She found it very exciting and it was nice to learn by watching other musicians play. "The feeling of winning 3 gold medals is a big honor", she said. Ophelie had already participated to this event last year with the stage band and the combo. Their performance earned them two silver medals. "Being on stage is really nice, exciting and stressful at the same time", she said. There were many other schools at the festival. When she won the medals, her parents were very proud and happy for her. Her father has always encouraged her in everything she has done in the past.
Written by Allison Paquet and Maude Roy
Edited by : Andréanne Rousseau and Étienne Belleau