Masks : to Protect us, but not our Planet!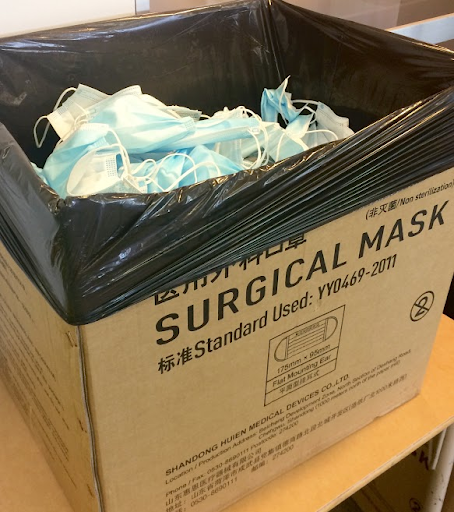 Since January, high school students are obligated to wear surgical masks at school, but where do they end up after students used them?
     On one day a student is supposed to wear one mask in the morning and another in the afternoon. In the province of Quebec it is about half a million per day. At the end of the school year it will be 85 millions masks used around the province only. Imagine worldwide…
     The minister of Education provided a list of four companies that  recycle masks. The list has been made by Recyc-Quebec, but the government admitted that they didn't verify what companies were in fact doing. This list is not a guarantee or a recommandation. As of today, no one really knows what the environmental impacts are.
     Terracycle and MedSup pretend that they are recycling the masks. The two other companies ,Sanexen and Multirecycle, are burning the masks to produce energy, but, let's not be fooled, it is not considered as recycling. Three of the four companies are sending masks in the USA or in Ontario to be treated. That produces pollution even if it is not the mask itself. "The idea of recycling masks is good, but we have to find something that is reliable and ecological." thinks Clara-Maude, a student of La Camaradière.
     Some people are saying that burning masks does more pollution than bury them. According to Le Journal de Québec masks made with polyester could take several hundred years to decompose. The situation is worrisome  for  students. "We know that masks are doing pollution and the situation has been shared with the students committee of the school. We are doing our best" says Clara-Maude.
     People agree, if Quebec was using the money that they use to recycle the surgical masks and instead they invest it in reusable masks that are made in Quebec it would be better.
     If we use surgical masks it is because it is better for our health. It reduces more the spreading of the virus than reusable masks. It protects humans but who is protecting the environment?