Netflix, Amazon Prime and Disney +, Which one is the Best?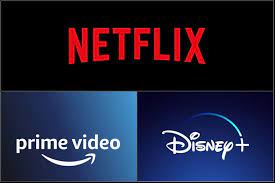 Netflix, Amazon prime and Disney+ are in the best movies and series apps you can find, but which one is better for you?
First, talking about the content, each one has its own preferences. Disney + offers all the movies and series from Disney, Pixar, Marvel studio, Star Wars, Fox and documentaries from National Geographic. On the other hand, Netflix also offers marvel content but it is more limited. Also, other documentaries of all kinds, anime, original movies, children's programs, standups and a lot of classic series and movies. Netflix also offers exclusive movies and series that they produced all over the world. Finally Prime video content is more like cult movies and series of all types.
Secondly, the monthly subscription prices of these apps. For watching the amazing content of Disney+ which will take you back to your youth, you will have to pay 8.99$ per month. Furthermore, this app offers you a boon by paying 89.99$ for a year you get a discount of about 1,50$ per month. For Netflix, the monthly price can vary from 9,99$ to 13,99$ or 16,99$ all depending on which package you choose, either essential, standard or premium. The difference in price is explained by the number of screens and devices you can log in to. To finish, Amazon prime costs only  7,99$ per month.
Finally, we have the market share, which is still important for your choice of best movies and series app. If you don't know what a market share is, it designs the ratio between the sales of a service made by a company and the total sales of the same service made on the market by all the present group. In 2020 in Us, the market share of these companies were the following, 31.5% of the market share for Netflix, 24,7% for Prime video, 6,1 for Disney + and finally 18,6% and 5.2% for other companies like Hulu and HBO. Which would make Netflix in the first place of the market share in 2020, followed by Prime video in second and Disney+ in fourth.
In conclusion, all these companies have their advantages and disadvantages and they all are qualified whether it is for their content, their prices of subscription or by their market share. However, the choice concerning which of these apps is best for you is yours.