The First Drone Flight on Red Planet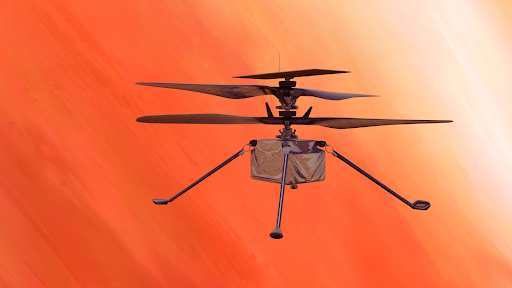 On April 19, 2021, a helicopter flew for the first time on Mars.
     On July 30, 2020, the volatile object was launched in the Perseverance rover in Cape Canaveral and arrive on February 18, 2021. When Ingenuity exited the compartment below the rover. It was intact and ready to fly, said NASA during an interview.
    Ingenuity is a demo for the future robot. A test that cost a lot, 80 million dollars is the price for it got the technology to survive on Mars. The helicopter has a battery in the middle of the engine. Four legs so it can stand on the floor, a sensor camera under to see when it is time to fly, but the camera is black and white. Two pairs of blades in carbon fibre, an antenna at the top and a solar panel.
     During two months, they did 5 flights. Here are the statistics for all of them.
     The first flight was on April 19, 2021, it was the first flying object controlled on another planet. Even if they only went to 3 meters in height and flew 39 seconds. There was a lot of applause given on the life of the YouTube channel of NASA, said a journalist commenting on the video. On the second flight three days later, they went 2 meters higher with a total of 51 seconds. On April 25, they went at the same high but flew 80 seconds long.
    The fourth flight started badly because they mistook the takeoff, but fortunately, they achieved it on April 30 with only 30 seconds more which is equal to 117. After a little break, NASA wanted to establish a new record and go on to their next target, said the space company on Twitter. 10 meters was the plan. It is the equivalent of two giraffes. They succeed, even so, they went a little bit less time in space on May 7.
     There will be future flights on May 30 and every 2 or 3 weeks until August so be ready to see Ingenuity climb to a new record (if it is possible). If you want more information go to the NASA page to know all the information and videos.