Influencers Fail The Day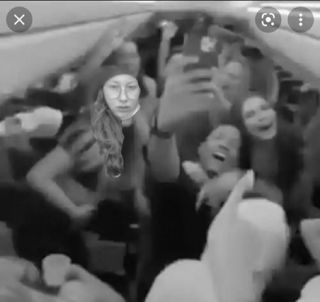 On the 30th of December, a bunch of Quebec influencers went on a trip to Tulum. 
When all of the 180 influencers were on the plane, they had a big party and didn't respect the instructions of the airline company. Most of them didn't have their masks on, were drunk and some of them vaped on the plane. A lot of them took pictures and videos of the party. When they arrived in Cancun, they posted all the videos and pictures on social media.   
 A lot of people, celebrities and companies are making fun of the influencers with videos or posts. On Tiktok, Instagram, Twitter, Facebook and other social media, people are expressing what they think of the situation. The prime minister of Canada, Justin Trudeau even insulted them in a press conference by saying that they are "une gang de sans-desseins".
 People are frustrated about this event because they don't understand why influencers went on a big trip during a pandemic, didn't respect any of the rules on the plane, a lot of them did not even apologize for it and don't have any regrets. They think that influencers have the responsibility to set an example for their followers. Three girls from the TV reality show named "l'ile de l'amour" ­made a video explaining the flight. They said that they were asleep during the party and they did nothing because they were too tired.  One of them also said that in the video of the party, we can see a girl really similar to her with the same outfit but in fact, it wasn't her. The public who saw the video is making fun of them because they don't believe it.
Finally, the airline company Sunwing decided that the influencers are not going to take the return flight with them so the influencers tried to book a flight with another company but they all refused to take them like Air Transat, Air Canada. For now, approximately 30 of them are back in Quebec but the rest are still in Tulum.