Our Body, our Choice!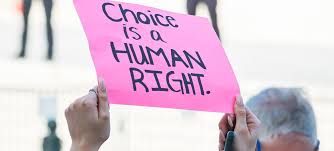 In Canada, Abortion is legal but difficult to access. However, things are different in the US as they are restricting rights to abortion.
In 1978, Roe v. Wade put in place the right to abortion. On June 24th, 2022, the supreme court decided to revoke this right and to put back the laws according to which ending a pregnancy is a crime.
"Honestly, I don't get this decision. Many women don't want kids or women who are not ready for this. If they get pregnant and can't afford having a child, The only option is abortion. But, some people think that women can't decide what they want to do for their choice of life," said Jade Perron, an old student of la Camaradière.
Most of the people that are affected are young women from the United States. But also all the women in the world who are personally affected by this turnaround. Several movements have been created. For example, on the Tiktok mobile app, women worldwide make videos. They take hangers to express themselves and show their support for the cause.
Only six hospitals have abortion services, and they're almost all a little less150 kilometres from the southern border. This is why people living in remote areas have difficulty having the services they need.
On the legal side of things, Justin Trudeau said that he wanted to strengthen access to abortion, so nobody in the future could change that law.
Trudeau wants to do everything possible to protect the right to abortion. We interview Lyvia Corriveau of the school la Camaradiere, " I think this is a good thing to do, so we as not experience a step back in women's rights as is currently happening in the United States. I believe we should be the ones to decide what is best for us. Our body, our choices." she said.