Alberta Wild Fire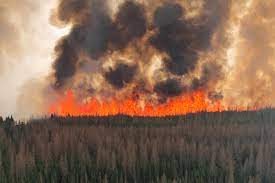 Alberta's wildfire threatens to drag on through the summer months as the hot and dry conditions are expected to last.
Wednesday afternoon 91 wildfires are burning inside Alberta and 27 are classified as out of control,  Alberta Wildfire information unit manager  Christie Tucker said.
It is said that the recent smoky conditions made it difficult to fly over the fire and it causes firefighters to not know the size of the fire. Also, smoke is aggravating health concerns.
They need weather that is going to bring a lot of moisture but it is announced hot, dry, and windy conditions are expected to continue and create unpredictable fires.
There are 2500 firefighters currently fighting the fires 1600 from Alberta Wildfire and 900 from Canadian Armed Forces and some from the United States.
The fire has burned a total of 10300 square kilometers of land but there is a Hercules air tanker that can hold 11350 litres of water which is scheduled to arrive Wednesday.
On Thursday rainfall really helped firefighters and made that evacuees could go back to their homes.
As of Wednesday, there are more than 11,990 people remained evacuated from their homes but some people have been allowed to return to their homes
Cyndee Evans from the Alberta Emergency Management Agency said there will be no change to the level of support, resources, and coordination that is being provided.