Metro Metro Festival
The 2023 Metro Metro urban music festival took place on May 19th, 20th, and 21st, at the Esplanade of the Olympic Stadium in Montreal.
FRIDAY
It was the first day of the festival, the main artists were; Lil Wayne and Kid Laroi. There were also many other artists and DJs. The festival-goers were pretty angry with Lil Wayne's performance because he arrived 45 minutes late and only performed for 15 minutes. "He showed up 45 minutes late set for cut for curfew after 15 minutes?!? But it still was worth it tho," said a member of the audience.
SATURDAY
On the second day, Jack Harlow, a 25 years old American rapper, was the main artist. Exactly like the day before, there were many other singers and some DJs. Saturday was the day when the festival-goers could see the most artists and DJs.
SUNDAY
For the last day, Lil Baby was the main artist to close up the 2023 Metro Metro festival. The last day was the one with fewer performers out of the three days.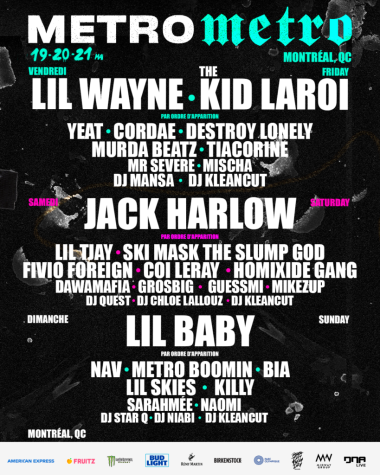 The people attending the festival were pretty angry at the organizers because of the bag rule. They announced publicly that the bags needed to be clear 2 days before the concert. People were mad about it because some of them did not have time to buy a bag that complies with the rule. The organizers offered a "stand" where people could leave their bags for the price of 5$. The only problem was the location of the stand, when people left their bags there they could leave the festival to get something in them but they could not get back to the festival. "I would have liked to know that only clear bags were allowed at the festival before because I only have 48 hours to find one," declared a tiktoker from Montreal.