La Ronde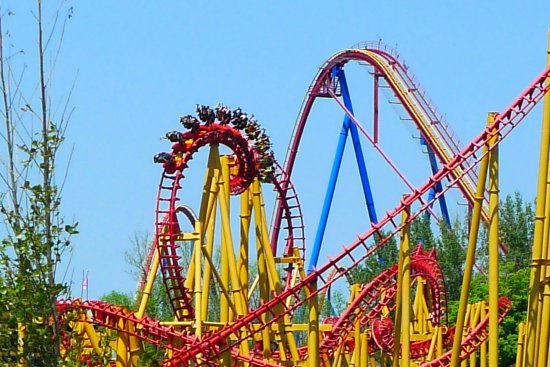 The school La Camaradière organized an outing to La Ronde on Saturday, May 27th, 2023. Only people in secondary 3, 4, and 5 were invited.  
The students had to be at school at 7:15 because they were leaving at 7:30 am. The journey took 2 hours and 27 minutes, so the bus arrived at 10 am and La Ronde opened at 10:30 am. The students had to leave their backpacks on the bus to avoid theft, but the bus was open from 12 pm to 12:45 pm for the people who wanted their lunches in their backpacks.  3 yellow buses were transporting the students. One for secondary 3, another one for secondary 4, and the last one for secondary 5. This outing cost 5$ per student.
May 27th was a beautiful, hot, and sunny day, so there was a need for sunscreen and a water bottle. People had a great and amusing day in general. There were a lot of people because it is the second weekend that La Ronde was open, so people wanted to take advantage of that perfect day to go on these  roller coasters.
Everyone had to leave at around 2:30 pm and be at parking lot A12 at 3 pm. They spent five hours at La Ronde. The buses left as soon as all the students had arrived. It carried all the 120 students to school, then the parents picked them up.
"I can't wait to discover La Ronde and be able to experience thrills, but I'm a little nervous because I'm afraid of heights and I've never done big rides," said one of the students that signed up.
The disadvantage of this outing is that the students are better off buying lunch because if they want to eat lunch they have brought themselves, they have to eat it off the site since food outside of snacks were forbidden.